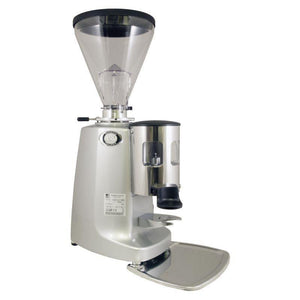 Super Jolly Electronic – Silver
Electronic grinder-doser with flat blades suitable for medium consumption.
Stepless micrometrical grinding adjustment.
On-demand grinding with electronic dose adjustment.
Single and double dose with independent adjustment.
Digital display with shot counter.
Hand tamper and support for tamping are included.
Available in single phase version only.
TECHNICAL FEATURES
Power
350 Watt
Grinding blades
Flat Ø 64 mm – 2½ inches (ref. 33M)
Grinding blade speed
1400 r.p.m. (50 Hz)
1600 r.p.m. (60 Hz)
Coffee-bean container capacity
1,2 Kg (2,7 lbs)
Net weight
14 Kg (31 lbs)