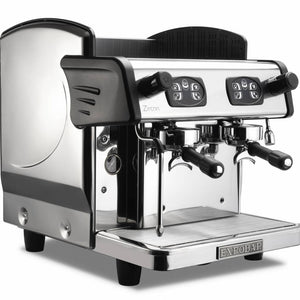 For tight spaces we recommend this compact 2 group espresso machine. It has a small footprint so ideal for bars or where space is at a real premium. It is also a 2 group machine and automatic so capable of produce good volume quickly and reliably. Our prices include installation and a 1 year year onsite warranty that includes parts and labour. With car this machine will last many years. We recommend a separate grinder so that you have full control of extraction times whatever coffee you use. 
The Zircon range consists of a group of well-known espresso machines in a large number of models. From the basic model to more advanced ones with many features. Regardless of model, you can be assured that all are built using the well-known Expobar technology. In other words, you are guaranteed machines of the highest quality that makes the barista's work much easier.
With a machine from the Zircon range, you are also given a great number of choices so as to best suit your business. Together with the many options and the stylish design, the experience of the Zircon range is complete.
FEATURES
Built-in volumetric motor pump, equipped with two retention valves and solid particles filter
Copper boiler with heat exchanger per group and pressure relief valve
Boiler drain tap (except Compact/Mini models)
Group head with direct pre-infusion chamber
Two steam arms and one hot water tap
3 & 4 groups models
Auto-fill water boiler
Water pump low water level auto cut-off
Boiler low water level warning light
Heating element low water level auto cut-off
2 GROUP ZIRCON COMPACT
Compact automatic espresso coffee machine with 2 groups, with automatic water filling and copper boiler with 6 litres boiler capacity with individual heat exchanger per group and cleaning valve. Including 2  steam arms (stainless steel) and one keypad controlled hot water outlet.
| | | | | | | | | | |
| --- | --- | --- | --- | --- | --- | --- | --- | --- | --- |
| Art No. | Groups | Boiler Capacity | Power | Turbo Frother | PID | Weight | W mm | D mm | H mm |
| C2ZIRCTA | 2 | 6.0 ltr | 2780W/230V | No | No | 40 Kg | 460 | 580 | 530 |