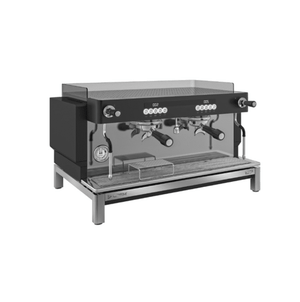 Expobar EX3 (2 Group) Tall (PID Display) Traditional Espresso Coffee Machine (White)
Price includes 1 Year Warranty
EX3 2GR DISPLAY FEATURES
PID temperature control
Display with boiler temperature and shot counter
Barista lights
Two cool touch steam wands with black lever steam taps
One hot water tap
Double pressure gauge
Take away group heads
Low profile height (465mm)
Stainless steel feet, trim and logo (back)
Standard white colour
ESPRESSO REVOLUTION
The EX3 is an attractive and extremely versatile professional espresso machine. Featuring a smart design concept, It can be easily customized -and manufactured- through the combination of a wide range of different options, both external (number of groups, colours and finishing, lighting, etc.) and technical. Thus, the EX3 is aimed to suit any kind of business with an espresso demand, whether it is a small café or a big coffee shop chain.
Ergonomics and user experience have been also key on this project. Following Crem espresso standards of performance, the EX3 features CREM highly tested technologies in order to deliver a superior in cup quality. As a result, a revolutionary concept that takes a step forward in the espresso manufacturing sector.
The EX3 was named a winner of the prestigious IF Design and Red Dot Awards 2020, within the product design category.